Warning: This blogpost has been posted over two years ago. That is a long time in development-world! The story here may not be relevant, complete or secure. Code might not be complete or obsoleted, and even my current vision might have (completely) changed on the subject. So please do read further, but use it with caution.
Posted on 25 Apr 2012
Tagged with: [ conference season ]



So even in the middle of conference season, I'd like to update you with some of the awesome things I've seen and experienced over the last few weeks.
Whiskyweb - Edinburgh - Scotland
Whiskyweb is a truly amazing conference. Especially if you know that this conference has been setup from scratch in about 3 months! Even most of the professional conferences out there cannot even organize what Juokaz, Micheal, Max, Paul and all the others involved have done in such a short time. Whiskyweb was held in Edinburgh, Scotland, which is one of the nicest cities I've recently been too. The city center consists of many old buildings and with all the pubs on the Royal Mile, you can't go wrong.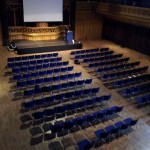 On the first day I arrived, I was just in time for the speakers diner where afterwards we all did a sort-of pub-crawl along many of the pubs on the Royal Mile. The next day we had a 15 minute walk to the venue together with BinaryKitten and Geekie who where staying in the same hotel as well. The conference venue was truly awesome: a big church modified for venues with room for a lot of attendees. Unfortunately, the registration process wasn't very quick, so the introduction was already started by the time we got our passes. On the conference itself, there were many speakers from all over the world speaking about lots of different subjects. My own talk was in the second room (I get that a lot :p), which was warm and dark, and together with some fairly complex theoretical stuff, it doesn't make a really nice combo. However, most people enjoyed it after a long day of the conference though. And off course, what's a conference without a flying radio-controlled shark? Nothing off course, which was the reason whiskyweb was guarded by a flying shark (minus the laserbeam on its head). The day ended with a whisky-workshop where we could taste all kind of different wishky's, and got an explanation on whisky in general.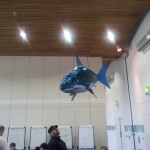 The second day was all about hackathons. It was more a do-what-you-like venue, but groups were form quickly en0ugh doing all kinds of stuff. Josh Holmes gave a workshop on speaking, I did some introduction on Puppet and Lorna hacked away on the joind.in API so others could actually use them for their own projects they were working on. The coolest projects I've seen that day was from two guys who wanted to do some work with Puppet and Vagrant, and managed to setup the joind.in application through vagrant, which is now in the process of being added to the master branch (yay!). And this actually shows you what a hackathon is all about.
4developers - Poznan - Poland
The following day I had to fly over to Poland for the 4developers conferences. This was my second time around at 4developers although the last time was in Warsaw. A lot of the speakers from Whiskyweb did an appearance at 4developers as well, so it was great fun to see the same group of people again, just in another country (that happens a lot by the way).
The 4developers also started with a really nice speakers dinner on the market square in the center of Poznan (at which we were drinking beer the whole afternoon already). Off course, a good speakers dinner in Poland cannot be ended without having a few bottles of wodka. There was even a point that we though that some of the speakers would never make it on time for their talk (or at least, not sober :p).
Fortunately, the venue was just a 5 minute walk away from our hotel and it was really nice venue. This time, the PHP track was the biggest track, with some small java, scaling and management tracks on another floor. The venue looks really great and futuristic and there 4developers bug mascot looked really nice (we've got the t-shirt). Maybe not every track was properly programmed though: Rowan Merewood's track was pretty popular but was in the IT -track, meaning there wasn't even enough room for all the attendees.  At this conferences, both Skoop and I did our first joint talk about "the why and how of learning" in the PHP track, which was received really good by the audience. Off course, we need to do some more fine-tuning, but expect this talk at a conference near you :).  Since I did two talks, my second talk was about one of my favorite subjects: Puppet. Even though it was in a small room, the room was pretty full and most people seemed to enjoy the talk and learned a thing or two about configuration management. After the conference, we all did another speakers-dinner (yay!) which was quite nice as well. Back in the hotel we went over for a beer at the bar.
The next day we had to leave, but our taxi-ride to the airport was not there until 5 so we had time enough to spend our day in the center of Poznan as well. So with a gang of 5 we went into town for a beer and something to eat (not as easy as it might sound) and end up enjoying the "fake jet-set life" on a nice day in the sun in Poznan.
Mail.ru Techforum - Moscow - Russia
With a whopping 2 days time off back home, I had to catch my next flight to Moscow. Never been there, so I really didn't know what to expect. Actually, to be honest, I was expecting a lot, but not traffic jams. It took the taxi around 2.5 hours for a 40km ride between the airport and Moscow city center (at least I had time to look around).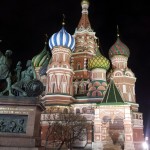 Luckily, some familiar faces like JP Mens and Kris Buyteart where also present at the conference, so when I checked in the hotel, they were all sitting in the lobby enjoying some beer. After dropping off my luggage in my room (room number 404, and still able to find it!), we went out for a nice Russian dinner. After getting back in the hotel at around 10, Garret Honeycutt and I decided to go for some sightseeing, so we went up to the Kremlin and the red square late in the evening, which was absolutely an awesome sight!
The next morning we were picked up by Kate (Екатерина), who escorted us to the venue. This conference was organized by one of the biggest providers of europe: mail.ru, and it showed: it was a massively impressive conference where in total over 1100 attendants have shown up (mind you: it was a free event as well!). All the talks were done in Russian, and all the talks from the English speakers were translated in real time through an interpreter (very U.N. like). As for the rest, the conference itself was just awesome: photographers taking pictures of everybody and everything, which were printed on the fly so you could get a hard copy of those pictures if you wanted (for free). Bottled water with the logo and date of the conference, personalized badges for everybody with a QR code for easy scanning and exchange and even the talks were broadcasted into the lobby so others could see them as well. Oh, and we could give away a free ipad to the person with the best question for each presentation (which means about 22 ipads in total to give away :)).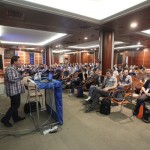 Unfortunately, I had to rush to the airport after my talk in order to catch my flight so I didn't time enough to answers everybodies question after the talk (I'm really sorry guys, if i'm there next year I will make sure I have time enough to answer ALL your questions), so after running 10 minutes late already, plus doing a quick 5 minute interview, I was on route back to the airport after just over 24 hours of Moscow. And yes, traffic was hell again, and it took around 2 hours to get to the airport, just in time for catching the flight with a whopping 20 minutes to spare.
So.. it's a few weeks off, doing some meetups in between, so don't miss out on the PHPBenelux meetup on the first of may, and a rerun at may 3rd at Competa. Next up are a social / holiday-esque trip to Verona during the phpday Italy, and off course PHP|tek in Chicago plus the DPC in Amsterdam where I will be doing quite a number of talks on an even broader range of subjects. Don't miss out!
---